Transfer FTM 2019 To New Computer
This blog will explain how to transfer FTM 2019 to a new computer. Suppose you are a paid user and want to change your computer. You can move your Family Tree Maker 2019. The best part is you do not have to pay as the copy of the software is free and provided by MacKiev. You will learn to back up the data, including your media file, and download and install FTM 2019 the software. Please note this process is for Windows users.
Export Family Tree File
Open Family Tree Maker 2019
Click the File menu and then click Export.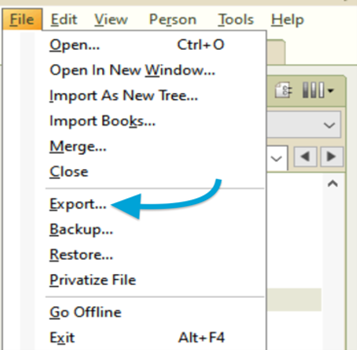 The following window will tell you about password protection for the exported file if you want to make it password-protected. You can use a password or leave it blank.
Please select the file format as displayed in the image below.
Select Family Tree Maker 2019 and then click on Okay. You must select the location where you want to save the file. If you have an external disk drive or a flash drive, then choose your flash drive and keep your Family Tree Maker export file on it. That's it; you got your family tree back up.
Transfer FTM 2019 to a New Computer
Getting a Free Copy of Family Tree Maker 2019 (If you have already paid for it).
Getting the replacement free copy for your family tree maker 2019 is very simple. You can download your free copy at the MacKiev replacement center. Here is how you can do it.
First, navigate the MacKiev website to the MacKiev Family Tree Maker 2019 replacement center. You will get a form to fill out. Please type your first and Last name, email address, country, state, and the current version. Please check the image below.
Once you verify yourself, you will get an option to download your free copy. But before you download the software, MacKiev will ask you if you want some extra services from them. For example, if you wish to DVD, you must pay $10; if you're going to USB, you must pay $20.
If you wish to upgrade to the family Pack, you must pay $20 for this service, where 3 people can work together on Family Tree Maker 2019. You can select the service you want or click next and place your order. Don't worry; you will not be billed.
Click order now, and you will have another window to fill in your information: email, First and last name, postal code and phone number to get the FTM Link.
Click on Place your order. Once you do that, you will get an option to download the software. Since this blog is for Windows users, you should select .exe to download your Family Tree Maker 2019. Open the downloaded file to install the FTM2019 software.
Import Family Tree To FTM 2019
Import family tree to FTM2019 – Follow the Steps mentioned below.
As soon as you install the software, you will have an icon for FTM on your desktop screen. Please open it and register your FTM19. Sign in to TreeVault, Ancestry and FamilySearch if you have an account, or you can skip it.
Please click on Import an existing tree and click on Browse. Once you click on browse, you can select your flash drive where you had saved your family tree maker files. Please type the tree name and click on continue. Your Familytreemaker files will be uploaded to FTM2019. Now you can use familytreemaker2019 on your new computer.
If you are an ancestry user, you do not need a flash drive to move your family tree data from one computer to another. You can log in to FTM2019 on both devices and download a tree from Ancestry to your new computer.
FAQ – Transfer FTM 2019 to a New Computer
Question: Can I use my Family Tree Maker 2019 USB to download FTM2019?
Answer: Yes, you can install it. You may need to update the software if any latest update is pending.
Question – I don't have access to my old email. Can MacKiev change my email address?
Answer – Yes, they can. Please get in touch with Family Tree Maker Live Chat to change your email address.
Question: Can I install Family Tree Maker 2023?
Answer: You cannot, as MacKiev still needs to release it.
Conclusion 
Read our easy steps guide To Transfer FTM 2019 to a New Computer. You can call us at our support number and get instant help from one of our experts.
Quick Read:-